Indiana University Health
Ambassador
IUH Ball Memorial Hosp
Department
Nutrition Services
Department
Nutrition Services
Requisition Number
000269816
Are you detailed orient? We want to hear from you. This role checks trays for accuracy, serves, and transports food and supplies to provide a high level of happiness for a diverse customer base! You will have the opportunity to improve the lives and experiences of patients, family members, physicians, other employees and the public! The incumbent is responsible for quick, accurate, and courteous service, and resolution of customer concerns. Responsible for associated sanitation, cleaning, and infection control practices to ensure food safety. Operates a variety of food service equipment. Accountable for patient tray delivery time and recording of patient orders. We do have cross training opportunities.  Apply now and become part of the IU Health team.

We are an equal opportunity employer and value diversity and inclusion at IU Health. IU Health does not discriminate on the basis of race, color, religion, sex, sexual orientation, age, disability, genetic information, veteran status, national origin, gender identity and/or expression, marital status or any other characteristic protected by federal, state or local law. We will ensure that individuals with disabilities are provided reasonable accommodation to participate in the job application or interview process, to perform essential job functions, and to receive other benefits and privileges of employment. Please contact us to request accommodation.
Qualifications for the Ambassador Role
High school graduate or an equivalent combination of education experience from which comparable job knowledge can be acquired; to include graduates from an approved IU Health transition-to-work program.
No experience required.
Basic computer skills and knowledge of the CBORD system relative to job responsibilities preferred.
Requires ability to stand and/or walk for long periods of time. Also, requires lifting, pushing, pulling, bending and kneeling.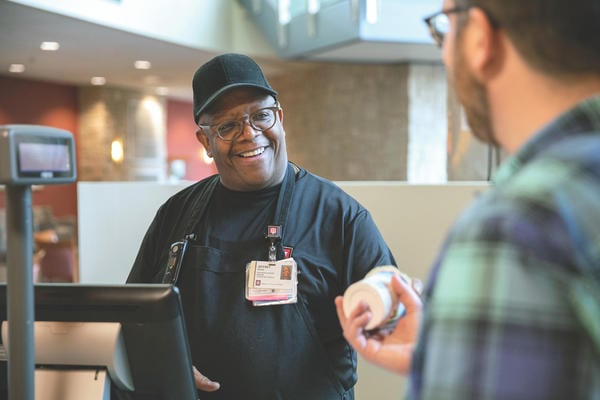 Indiana University Health is Indiana's most comprehensive health system, with 16 hospitals and more than 34,000 team members serving Hoosiers across the state. Our partnership with the Indiana University School of Medicine gives our team members access to the very latest science and the very best training, advancing care for all. We're looking for team members who share the things that matter most to us. People who are inspired by challenging and meaningful work for the good of every patient. People who are compassionate and serve with a purpose. People who aspire to excellence every day. People who are always ready to apply themselves.